Investors have poured in excess of $3 billion into over 200 ICOs this year, according to data from Coinschedule.com (with many ICOs still ongoing and hundreds more scheduled). September was among the busiest months, bringing in almost $850 million alone in 37 offerings. There are now in excess of 1,000 digital tokens.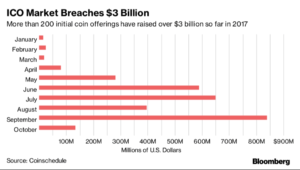 Of the 226 ICOs analyzed, only 20 — such as Storj, Augur and TenX — are used in the running of their networks, according to Token Report, which keeps a database of token sales information. The rest can only be traded, and are purely speculative instruments, Galen Moore, chief executive officer of Token Report, said in an interview.
According to CB Insights, investors in ICOs hope to turn a profit by buying early access to potentially foundational blockchain protocols and applications, just as early investors into Bitcoin and Ethereum did. For reference, a $100 investment into Bitcoin on January 1, 2011 would now be worth nearly $1.5M.
Some 70 cryptocurrency hedgefunds have sprung up since the start of 2017, many with prominent venture funds as investors. Polychain Capital and MetaStable Capital are two such funds that have received lots of attention from venture investors. MetaStable has received investments from Sequoia Capital, Union Square Ventures, and Founders Fund, while Polychain has received investments from Andreessen Horowitz and Union Square Ventures, among others.
CB Insights define initial coin offerings (ICOs) as sales of tokens or coins offered by blockchain companies looking to raise funds, typically denominated in major "gateway coins" Bitcoin and Ethereum. Tokens are subsequently traded on cryptocurrency exchanges, and rise or fall in value nominally based on the company's projected product, consumer traction, and/or speculation. There are currently a total of 119 cryptocurrency exchanges.
Teams holding ICOs are building decentralized blockchain applications across verticals, ranging from asset management to social networks to prediction markets.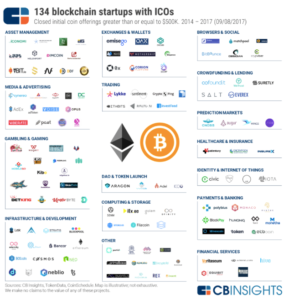 These teams holding ICOs are adamant that they do not represent securities offerings, and instead market their coins or tokens as part of an entirely new asset class altogether. For example, Bitcoin is a token that provides ownership of a unit of account on the Bitcoin ledger. It is impossible to participate in the Bitcoin ledger without owning Bitcoin; Bitcoin is the network's exclusive means of exchange. In this sense, Bitcoin isn't a security, but utility within a network.
In the same vein, companies justify large pre-product ICOs by arguing that scarce tokens provide future utility within decentralized networks. ICOs regularly raise upwards of $10M, with teams often presenting a white paper in lieu of an investment memorandum, product, or roadmap.
The Commodity Futures Trading Commission released a primer last week on virtual currencies, reiterating its view that virtual tokens can fall under its authority. The U.S. Securities and Exchange Commission has already said tokens from some ICOs can be deemed securities under its oversight.
Over-capitalization is a continuing concern. Teams holding ICOs might be receiving too much money too quickly. When compared to traditional equity financing in the sector, ICOs raise well above the historical average of $3M for early-stage (seed / angel and Series A) blockchain deals.
The reality is that venture investors are still looking for real blockchain usage beyond speculation, as most teams exploring blockchain use-cases have been hard pressed to find users. This is an immediate requirement for the sector to mature.
No one doubts the future of blockchain technology, and the future of cryptocurrencies is unstoppable. However it is our view that the ICO market is due for a shakeout given the regulatory uncertainty, the current high number of ICO launches coupled with the low deployment of tokens into actual networks, and the overcapitalization of startups with blockchain application projects that are too early stage (mostly without meaningful customer traction).