When it comes to the adopting the newest, digital methods for managing their personal finances, Chinese and Indian consumers are way ahead of the rest of the world. A report by consultancy Ernst & Young (EY) suggests that a lot of this has to do with digital payments.
About 69% of people who are active online in China have used two or more Fintech services  (excluding those services provided by financial institutions) in the past six months, and in India the share is 52%, according to EY's s survey. That compares with 42% in the UK, 33% in the US, and just 14% in Japan.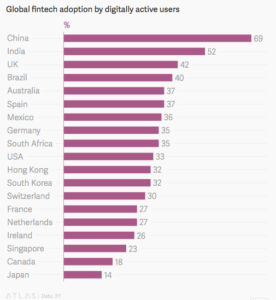 By this measure, a market underserved by Fintech services is South Africa (35%), even though 78% of all its Internet traffic takes place over mobile channels – one of the highest rates in the world. Despite the continued growth of adoption, only 15 percent of South Africans reported making a purchase on a mobile phone in the preceding month when surveyed in 2016.
The big players in China—Alipay and WeChat, which together have more than a billion users—enabled $2.9 trillion in digital payments last year, according to a UN study. That's a 20-fold increase in the past four years. India's Paytm has some 200 million registered users for its wallet service. By comparison, US-based PayPal, which includes the person-to-person Venmo service, has about 200 million active account holders and recorded $354 billion in payment volume last year.
Fintech starts with digital payments
Fintech upstarts provide things like loans and investments, but much of the early uptake has been in transfers and payments. The latter has really taken off in emerging markets, where people can't necessarily tap a full-blown suite of financial services easily.
"Social networks and e-commerce platforms are growing in every economy, whether large or small," says Ruth Goodwin-Groen, Managing Director at the Better Than Cash Alliance. "In China, digital payments are thriving from these channels, bringing millions of people into the economy. This matters because we know that when people – especially women – gain access to financial services, they are able to save, build assets, weather financial shocks, and have a better chance to improve their lives."
A new report by the UN-based Better Than Cash Alliance, Social Networks, E-Commerce Platforms and the Growth of Digital Payment Ecosystems in China – What It Means for Other Countries, contains key lessons to help other countries include more people in the economy by transitioning from cash to digital payments.
More people have opportunities to save and invest. Platforms such as Alibaba's Yu'e bao make investing money into diverse sets of financial products more accessible for low-income populations. These products allows them to invest the money left on digital accounts, leading incrementally to long-term savings. From 2013 to 2016, Yu'e bao has grown to manage US$117 billion and is now serving over 152 million customers.
Digital finance helps dramatically increase access to capital for small merchants. As of September 2016, a total of RMB 740 billion (US$107.3 billion) had been lent on the Alipay platform to over 4.11 million small and micro enterprises and entrepreneurs.
Big data generated through these platforms helps to build credit-scoring history and boost access to credit, particularly for low-income financially-excluded populations. For example, Sesame Credit offers an alternative creditworthiness assessment by examining the credit history, financial behavior, contractual capacity, identity, and social networks of users.
Fintech can have a significant impact on developing economies
"There is a quiet revolution underway and we know, firsthand, that our services are making a real difference to hundreds of millions of consumers. But, as this groundbreaking UN report highlights, this revolution is only just beginning. We see tremendous potential to bring many more people into the financial system, in China and markets around the world," says Eric Jing, CEO of Ant Financial Services Group, which operates Alipay.
A McKinsey Global Institute report asserts that transitioning from cash to digital payments could increase GDP across developing economies by 6 percent by 2025, adding US$3.7 trillion and 95 million jobs.
Big western companies are starting to pick up innovations from emerging economies, like tying more payment options to messenger apps and social media, and using the data collected to offer even more services. In places like China, the UN report suggests the impact is already more profound. It's giving more people access to savings and credit. That could help power the broader economy, and also boost the standards of living for millions of ordinary people once cut off from the formal financial system.